RESERVE MENU
Reserve Menu Page - Premium Offerings !
Welcome — we've developed the "Reserve Menu" page as a space to feature our top-tier models to our most discerning clientele.
It is a place for expert users and experienced tube-o-philes, who know exactly what they want, including circuit configuration and parts they will be listening to.
… to use an analogy from the world of cars — those who feel at ease on this part of our site are like the people who buy a 911 Cup Series Race Car — they know exactly how to use it, and have the resources to do so in every new environment (track / weather).
As one of the few remaining authentic tube specialist alive today, we want to pass on the passion and tradition of tube sound that we make to new generations — here you'll find those details and niche geeky details that are meaningful to true connoisseur - for our new-to-tubes customers, there is the rest of the site !
45/2A3 Mini Copper
So here is the small or mini version to our reference 2A3i. The Mini is constructed with the very powerful and quiet 12AX7, to yield a single stage pre-amp. We'd considered using both 5687 or 6H30 tubes, but both will require a 2-stage design (plus the availability of tubes is not as good as that of the 12AX7s), which wouldn't sound as direct nor realistic. Those who listen to the these 45/2A3 Triode tubes with little output power isn't worried about gain nor drive anyway, so to tube connoisseurs, the quality and refinement are far important.
Showing our prototype below, the power and choke transformers is handled by the Canadians (due to space, as well as, the availability of international voltage). Output transformers can be expressed by the very best Hashimoto. For parts, lots of Mundorf ECAPs and Coupling caps will be used. Tube sockets for the 12AX7 and the GZ32/5V4 are made by 3Q Japan. Alps Blue will be used, but those who wanted, like what's shown in the photos, it can be upgraded to DACT, and the pictured matching DACT polished stainless steel knob. For those who want to unleash its full potential with our matching pre-amps, we can turn this into a pure power amp, with a Triode Lab name plate over the volume control holes.
The sample built is a 45 with an exceptional 2W before distortion, in 2A3 application, we can easily get a solid 3.5W-5W before. And no, you cannot run the two tubes the same time, we make the finest 2A3 amp or we make the best 45 amp only. We do not make a half-quality circuit to run two tubes loosely together for convenience. The two tubes, which is totally different and required different optimization to maximize each tube's potential. (For example - out of many things, we run the 45 with 5K output transformer and 2A3 in 2.5-3.5K, it is totally different transformers! never-mind there are many other adjustments thru out the rest of the circuitry to make it finest AND reliable/durable to be a selling product they are made to last).
Make to order only - 2A3/45 Mini Integrated is hand wired thru out, a circuit board is used to mount the triode tube socket, coupling cap and loading resistor only.
2A3 Mini with Triode Lab Canada Made Transformers $4,999 CAD / 2A3 Mini with full Hashimoto Transformers $4,999 USD
No shipping / No tubes / No tube cage / Made to order / Plus any upgrades extra
Finish : Any Finale / Triode Lab Official Colours
Standard Parts:
Finale Pink-Lingu RCA Input (Finished in Rose Gold plating)

Triode Lab Stainless Steel Solid Knob - Handpolished / Hand made in Canada

Mundorf Germany Silver in Oil Coupling Caps

Alps Blue Japan Blue Velvet Volume Pot

Furutech Gold IEC AC Inlet

Premium plastic 5 way speaker binding posts (Up-gradable , but most brand name manufactures from Mac to Sim, they have proved this set of binding post will easily last over 30 years of durable use and are well insulated)

Pictured pure copper chassis finish is option @ $2,000 CAD dollar.
Model : EL84 SET-FFX
2020+
We mastered one little EL84 in SE mode almost 40 years ago. Have we stop making it due to high cost? No - we still make it for our EL84 fanatics, in modern high end standards (most tube circuits out there are from the old days with narrow bandwidth, and not very refined - it's not a coincident some amps never had highs , or the noise floor is higher than usual , because its just another copy from the past). Each EL84 SET-FFX is one of a kind, made to your order. And here is the "TRIODE LAB" no hold barrette version of this tube in SE configurations - you can't find the same voice and character else where. These exotic Hashimoto (Sansui) Transformers from Tokyo are the finest type HIFI transformers and are expensive. There is not another manufacture can afford to do this , we simply want the best or nothing! Because even we have the ultimate and finest circuit designs , without the finest transformers will not unleash its full potential. And these legendary Hashimoto transformers are proven on Sansui amps that be lasting forever.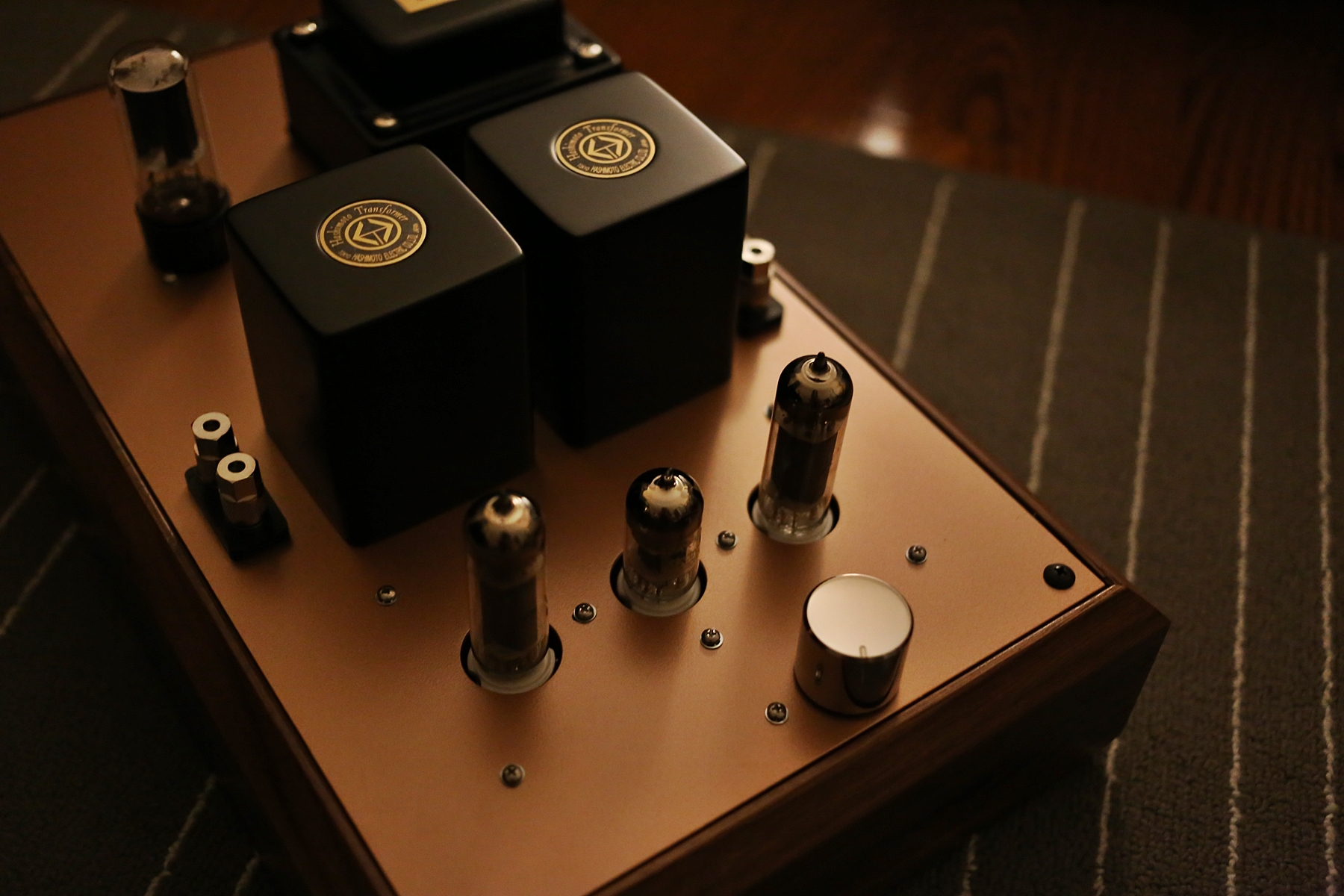 Quick facts:
HASHIMOTO Japan Output Transformers Specific for EL84 / 6BQ5 type tubes

HASHIMOTO Japan Power Transformer

HAMMONDS Canada Choke Transformer (Can be upgrade to HASHIMOTO chokes)

CMC or CARDAS USA Binding Posts 0-8 Ohms (4/16 Ohms Extra)

FURUTECH Japan Rhodium AC Inlet

FINALE Canada "Pink-Lingu" Rose-Gold Plated RCA Jacks

Alps or TKD "Stepped" Volume Pot

Output Power : 1.5 Watts in Triode Mode or Pentode mode over 6W (default)

Operation : Class A Autobias

Size : 17 in x 10 in x 3 in

Special Note : Other than our typical FFX treatments , this might be the only SE-EL84 amp on the market uses regulated power supply to feed the amp. And in the past , our record measurement in such configuration WITHOUT regulated power supply is quiet enough at 100 db - which reads quieter than many solid state amps. Now, it will only be better , quieter , and the tubes and sound are always at its optimal working point - the tubes will last longer and more evenly too, as they see same voltages. No body will do that far and spend that much time / money and effort for such simple-amp design , but we will!

Finish - Pick a colour you like from our 9 factory colours , and it will be housed in a Canadian Walnut wood frame chassis

$2,500 USD - Making it our most affordable tube amp that wears the Triode Lab name!
CLICK HERE to read reviews and our records in making the finest Single Ended EL84 / 6BQ5 Amps!
Model : 6V6-FFX
2019+
In early 2000s, we made the EL84TT and it beats many so called "high end" triode systems. It easily is the benchmark and reference of all EL84 tube amps. So now, we want to make the best 6V6 integrated amplifier, true reference grade. With complete set of high end Hashimoto (Sansui) transformers from Japan. The heart (circuit) of the design is based on one 12AX7, and one pair of 6SN7 to drive the 6V6s. Its one of our favourite design (both sound and performance), which has a unique tone why we love to listen to the 6V6. This same design was really the same one our chief engineer used to pass his exam in college, which of course he earned a 100% score, 40 years ago. Today, along with the best HIFI transformers, with our traditional tube amps knowledge, and sound tunings - we present the new 6V6 FFX.
Quick facts:
HASHIMOTO Japan Flagship Grade 40W-10K Output Transformers

HASHIMOTO Japan Choke / Power Transformer

FURUTECH Japan Carbon Fibre Binding Posts 0-8 Ohms (4/16 Ohms Extra)

FURUTECH Japan Rhodium AC Inlet

FINALE Canada "Pink-Lingu" Rose-Gold Plated RCA Jacks

DACT Germany Selector Switch

ALPS Japan Blue Velvet Vol Pot

MUNDORF Germany Silver in Oil Coupling Caps

4+4W Class A Auto-Bias (Optional 8-10W In Ultra Linear Mode)




MSRP : $6,500 USD + Shipping (Triode Price) / $5,999 USD for Ultra Linear Mode (Using Hashimoto Classic 30W OPT / Like the one used on Sansui Tube Amps & Receivers)
Limited. Made to Orders Only. Lead time required.Pure copper chassis available for extra $2,000 USD.
Model: EL84TT - FFX
A true amp for the EL84/6BQ5/7189 fanatics!
Available to configure in Class A Push Pull Triode 7W, Pentode or Ultra Linear 15W+ Class A/B
Standard Part List : 15W Rated Hashimoto Potted Type Output Transformers (or the 30W Classic Sansui OPT made by Hashimoto), Cardas Binding Posts / RCA, Mundorf Silver in Oil, Furutech Rhodium IEC, High quality input wires, Soundcoats, QQQ Japan rectifier tube socket...etc
These are the finest wattage thanks to Hashimoto. They have the fewest power losses, the most quiet condition and ideal measurements in everything (these were measured better than almost over 100 db for the S/N ratio - which is VERY quiet), which makes a 15W"amp" drive like a 30W. Don't let the numbers fool you. The best tube amp will easily outpower your average quality tube amps so you can drive more different speakers PLUS, you always hear more. This is why most experienced tube-philes would only spend time with a tube amp mounted with decent transformers, because they know they are listening to everything out from their records/source.
Special Features:
FFX Limited Edition Power Amp/Developed complete with full suit of exotic Hashimoto transformers

FFX Silent Ground Technology - Optimal grounding network design and parts layout, along with best power supplies materials for the best hum and noise control and best S/N ratio. And yes, it measured quieter than any power transformer we have used for EL84/6BQ5 type tubes, salute to Hashitmoto!

FFX V-max Tunings - All FFX models are unleashed by us, with all its special advantage with its exotic grade parts and settings, which allow us to remap the entire circuitry for its maximum "Valves" output power and quality, both numbers and aural.

This is one of the quietest amp we have come across! The power (read VERY conservative) and the quality is exceptional for its price, this is built for our loyal customers who have seen the potential of our EL84TT. Finished in Porsche Riveria Blue (or your preferred colour). All parts and materials tailored to customer.
$5,999 USD + Options
Limited. Made to Orders Only. Lead time required.Pure copper chassis available for extra $2,000 USD.
EL84TT-FFX R
By using 7189a / EL84M tubes ONLY, with all newly-redesigned circuitry for this higher power output tube, which focus on strengthened/enhanced front-end design (an auto balance design is also used over trim pot), as well, an upgraded power supply handles the extra wattage output AND operating voltage. The FFX-R enables to yield a solid 20W Audobias in Pentode Class A/B or 8W in Triode Class A. The power supply is also regulated on the FFX R.
The FFX-R have the Hashimoto Output Transformers upgraded to 25W Potted or 30W Classic Type Sansui Output Transformers by Hashimoto (the one used on the EL84-TTS), also a bigger power transformer is used, as the operating point shifted up from under 280V to 300-330V. An extra pair of oil caps is needed at the front end, along with a few pairs of extra E-caps, which are crucial to the other 4 Silver in Oil coupling caps to make up this perfect topology - nothing less, to finish off as the best of its type around the world. And for those who really love this tube so much, ask us about the EL84-FFX RS that puts out a solid 27W+27W, with fixed bias, complete with our Canadian in-house transformers. $6,999 USD + Options
2A3 Push Pull Mono-Blocks
Where D.H.T. combines the beauty of power.
2019 : Our original 2A3GT Push Pull monos are pushing 10 years old, and aging more gracefully than we had ever imagined. However, we haven't been sitting around sipping espresso lattés and admiring our handiwork this past decade! Instead we've been rethinking everything, as usual. How do we improve a design that already ranks among the best (Glad you asked)? Anyway, for the whole new Second Generation:
Model: 2A3GT-FFX (MK2)
Power: 10W-15W Class A Operation
The 2A3GT-FFX (MKII) will be engineered using the finest components in the world, including the usual FFX treatments plus :
Top-grade HASHIMOTO chokes and power transformers , or potted Hammonds (Made in Canada)

HASHIMOTO (Sansui) Output transformers

Mundorf M-Tube Cap (Power Supply)

Silver Oil Coupling Caps

Furutech AC Inlets

Cardas binding posts (For North America) or CMC/Furutech insulated Speaker Binding Posts (For Asia / Euro)

Choice ofo ur 9 Factory Finishes, or your favourite car paint (Above shown using Porsche Rubin Red Metallic - $1200 Extra)

MSRP starting from $13,888 USD

Optional Pure Copper Chassis $2,000, hand polished to a medium gloss state. (See below)

Class A 10W Minimum (Different model of transformers yield slight different power outputs), to max of 15W.

Special Features:
- FFX Limited Edition Power Amp/Developed complete with full suit of exotic Hashimoto transformers or equivalent high-end irons
- FFX Silent Ground Technology - Through optimal grounding network design and parts layout, along with best power supplies materials for the best hum and noise control and best S/N ratio.
- FFX V-max Tunings - All FFX models are unleashed by us with all its special advantages such as its exotic grade parts and settings, which allow us to remapped the entire circuitry for its maximum "valves" output power and quality, both numbers and aural.
HOMAGE-30 MC Phono Stage
Solid state design - although we are the tube experts, but there are more advantages with solid state than tubes for the most quiet operation in this case, and few tubes qualify to the level we wish to shoot for - but they are rarely available as they are non common audio tubes.

External power supply, with Canadian power transformer with world wide voltage.

Tailor to your cartridge (And if you ever getting a new cart, just send the unit back to us to redial the perfect settings as well a complimentary check up, included up to 2 times for free if needed)

Compact size , roughly 7" long x 3" tall and 4" wide, for the pair.

We mastered turntables more than 30 years ago, many phono amp designs are made ever since (both for our own enjoyment and OEM), and back then we were fever enough fly all the way to Japan to beg old Mr.K-san for our own cartridge. Here, with the HOMAGE-30 MC Phono Stage, you are getting our finest design and philosophy accumulated in all these years. And this is our favourite MC design from 30 years ago and it just come back to life!

This MC amp teams up perfectly with our Triode Lab's and Finale's pre-amplifiers onboard phono stage (the perfection phono foundation) or other high quality phono stage (if it is as quiet / and measure as good as our foundational phono stage on our preamps) - this is the foundation, and it has to be the best!

MSRP : INQUIRE Within , deep discount for our return customers.
And if you want more power around with 2A3 tubes, we also have the 8 Watts 2A3 PSDM (Parallel Stereo Dual Mono) version for our 2A3 connoisseurs. And 4 Watts for the 45 PSDM.
2A3 / 45 Parallel Stereo Dual Mono
Reference Integrated Amplifier
DUO Feedback Technology , exclusive and debut on this 2A3 Parallel SE Design. Double the bandwidth, higher efficiency and stability, lower distortion and noise, and beautiful curves of both measurements and image of the body. (Unique feature / design on the PSDM amps only)
Dual mono design, each channel's own output, power transformers and tube rectified power supply stage on to the same chassis - Total 5 pcs + Transformers.

Feature using Mundorf power supply capacitors - Our design uses one big capacitor over multi-piece of E caps for better S/N ratio and fewer chances of interference. What's more, a long duration of R&D of the layout and location on each (out of 5 pcs + of transformers) is carefully measured and tested, to ensure each spot where the transformer is mounted is the quietest place to be. Even the horizontal/vertical placement of each transformer make a difference, if you notice how we handle the transformers on the chassis.

Mundorf Supreme Silver in Oil Caps are voiced and used across the range (FFX or Canadian trim)

Tubes same as 45/2A3i SET Integrated Except the PSDM has one more pair 45 / 2A3

Class A 8 Watts (Conservatively under-rated), on our prototype, with One Electron USA Output Transformers, we were measured max power of 9.5Ws. The final outputs will depend on the make of transformers. Starting 2018, full suit of Canadian transformers or HASHIMOTO (Sansui) will be used. Class A 4 Watts for the 45 Triodes.
45 / 2A3 - PSDM
MSRP $6,999 CAD POWER AMP (2020 Pricing)
MSRP $7,500 CAD Integrated (Full preamp stage with DACT selector switch / Alps Japan Blue Vol Pot / Triode Lab Stainless-Steel Knobs)
(USA-CAN Made Transformers/ Finale Pink-Lingu RCA Input (Rose-Gold Finish) 2018+ / Binding Post 4 & 8 ohms / Furutech Gold AC Inlet/ Mundorf Silver in Oil Caps), Shipping (with tracking) and safe shipping vault ($350) will be on the house (FREE) , but no tubes. Integrated version $6,500 CAD. Limited. Made-to-order only. Lead time required. Finished into any of our 9 official colours free of charge. There are also 6,500 Other Colours here for extra : $500 CAD / Car Paints $800 (Lead time required). Or for best result (to some people), the top plate can be fabricated with pure copper for a extra $1,500 CAD. / Free options : Low Gain MOD (When normal gain is too much for 99 db + speakers - the 12AX7 will be replaced with 12AU7) and separated filament transformers
45 / 2A3 - PSDM FFX :
MSRP $11,999 USD 2A3 Power Amp / $12,999 USD 2A3 Integrated
MSRP $10,999 USD 45 Power Amp / $11,999 USD 45 Integrated
Complete suit of Hashimoto (Sansui) Transformers. Limited. Made-to-order only. Lead time required. 2A3 spec uses RSR Output 30W Flagship Output.
NEW FLAGSHIP 30W OUTPUT TRANSFORMERS DESIGN BETWEEN TRIODE LAB X HASHIMOTO - Newly developed for Parallel 2A3/300B

HASHIMOTO (Sansui) 20W Classic SE OUTPUT TRANSFORMERS - on 45-PDSM FFX , Same pair used on the 45M-II FFX

MUNDORF GERMANY Silver in Oil CAPS / MUNDORF GERMANY ECAPS

FURUTECH JAPAN Gold or RHODIUM AC INLET (optional)

QQQ JAPAN Premium Rectifier Tube Sockets

CARDAS RHODIUM or GOLD BINDING POSTS (optional)
FINISHED INTO ANY OF OUR 9 OFFICIAL COLOURS . There are also 6,500 Other Colours here for extra : $500 CAD / Car Paints $800 (Lead time required). Or for best result (to some people), the top plate can be fabricated with pure copper for a extra $1,500 CAD. / Free option : Low Gain MOD (When normal gain is too much for 99 db + speakers - the 12AX7 will be replaced with 12AU7) and separated filament transformers
REVIEW:
| Having the first Triode Lab 2A3-PSE stereo amp was an honour, and using it was a joy. The amp consistently made me smile; it made me want to rifle through my records to find more music to play. I enjoyed every aspect of this amp, and I'd consider it a worthy addition to most any high-end domestic audio system. I was sad to see it leave – I don't know when another component of this caliber might grace my room. Very highly recommended.|
http://www.WALLOFSOUND.ca