45/2A3 Mini
So here is the small or mini version to our reference 2A3i. The Mini is constructed with the very powerful and quiet 12AX7, to yield a single stage pre-amp. We'd considered using both 5687 or 6H30 tubes, but both will require a 2-stage design (plus the availability of tubes is not as good as that of the 12AX7s), which wouldn't sound as direct nor realistic. Those who listen to the these 45/2A3 Triode tubes with little output power isn't worried about gain nor drive anyway, so to tube connoisseurs, the quality and refinement are far important.
Showing our prototype below, the power and choke transformers is handled by the Canadians (due to space, as well as, the availability of international voltage). Output transformers can be expressed by the very best Hashimoto. For parts, lots of Mundorf ECAPs and Coupling caps will be used. Tube sockets for the 12AX7 and the GZ32/5V4 are made by 3Q Japan. Alps Blue will be used, but those who wanted, like what's shown in the photos, it can be upgraded to DACT, and the pictured matching DACT polished stainless steel knob. For those who want to unleash its full potential with our matching pre-amps, we can turn this into a pure power amp, with a Triode Lab name plate over the volume control holes.
The sample built is a 45 with an exceptional 2W before distortion, in 2A3 application, we can easily get a solid 3.5W-5W before. And no, you cannot run the two tubes the same time, we make the finest 2A3 amp or we make the best 45 amp only. We do not make a half-quality circuit to run two tubes loosely together for convenience. The two tubes, which is totally different and required different optimization to maximize each tube's potential. (For example - out of many things, we run the 45 with 5K output transformer and 2A3 in 2.5-3.5K, it is totally different transformers! never-mind there are many other adjustments thru out the rest of the circuitry to make it finest AND reliable/durable to be a selling product they are made to last).
Don't forget to ask about the 2A3 Mini RS Parallel Mono Blocks with double the power!
Make to order only - 2A3/45 Mini Integrated is hand wired thru out, a circuit board is used to mount the triode tube socket, coupling cap and loading resistor only.
2A3 Mini with Triode Lab Canada Made Transformers $3,999 USD / 2A3 Mini with full Hashimoto Transformers $4,999 USD
No shipping / No tubes / No tube cage / Made to order / Plus any upgrades extra
Finish : Any Finale / Triode Lab Official Colours
Standard Parts:
Finale Pink-Lingu RCA Input (Finished in Rose Gold plating)

Triode Lab Stainless Steel Solid Knob - Handpolished / Hand made in Canada

Mundorf Germany Silver in Oil Coupling Caps

Alps Blue Japan Blue Velvet Volume Pot

Furutech Gold IEC AC Inlet

Premium plastic 5 way speaker binding posts (Up-gradable , but most brand name manufactures from Mac to Sim, they have proved this set of binding post will easily last over 30 years of durable use and are well insulated)

Pictured pure copper chassis finish is option @ $2,000 CAD dollar.
2. 2A3i Reference Integrated Amplifier
A result of combining the preamp and 2A3 SET power amp
"Going up in price, the Triode Labs 2A3i sounded superb, with resolution and richness fully returned to the upper mid-range compared to the solid-state amplifiers. It gave back texture to violins and allowed me to hear strings and sympathetic body resonances very clearly."
Frederic Beudot @ 6moons.com
Starting 2019,
THE NEW 2019+ 2A3i Reference Integrate Amplifier will make the following changes:
2 trims available : FFX / Canadian

Use HASHIMOTO (SANSUI) for the FFX model

Use HAMMONDS/Triode Lab Transformers for the 2A3i Canadian

DECREASED MSRP because there is no dealer, even our cost has rapidly increased

$6,500 USD+ for the FFX version using HASHIMOTO (Sansui) Transformers and high end parts

$5,500 CAD+ for the 2A3i-Canadian version with premium brand name parts

Free option : Low Gain MOD (When normal gain is too much for 99 db + speakers - the 12AX7 will be replaced with 12AU7), plus admustment in input sensitivity.

Shipping (with tracking) and safe shipping vault ($350) will be on the house (FREE) , but no tubes will be included.

Made to order only and like any thing best - please wait!

New chassis became top plate over chassis design - and the top plate can be painted into any of our 9 official colours free of charge. There are also 6,500 Other Colours here for extra : $500 CAD / Car Paints $800 (Longer lead time required, as often the top clear-coat is not harden). Or for best result (to some people), the top plate can be fabricated with pure copper for a extra $1,500 CAD.
Tube use / Dimension/ Weight and Power:
12AX7 Pair / 6SN7 Pair / 2A3 Pair / 5U4 or 5V4 ONLY Rectifier for 2A3i Canadian, and FFX is voiced with Mullard GZ34/32

Dimension: 13.5" Wide x 17.8" Deep ***New 2019 Chassis***

Weight: 30 lbs - 45 lbs, Plus Shipping Boxes and Materials (Depending transformer used)

Power : 3.5W - 5W+ : Depending on the model and output transformers - Some have better inductance, some have more power, some for more definition/clarity or better treble/bass extensions. It all depends on the design of each transformer; and each brand and model of output transformers are different - that's why they have different models for just one tube usually. As they have different timing, bandwidth, measures, phase shift, distortion, presentations, and insert loss - so on each model, we have to fine tune and maximize use of them, rather it is the output transformer, the choke, or the power transformer, they all offer different optimal working parameters, and we are the expert to extract their potential at its best to the last bit. On the other hand, the less ideal/precise designs will tell you its 3.5W because they see the transformers as just part of the calculation (rather they will meet their original design goals on paper or not at the end). This is what makes us better than the best out there.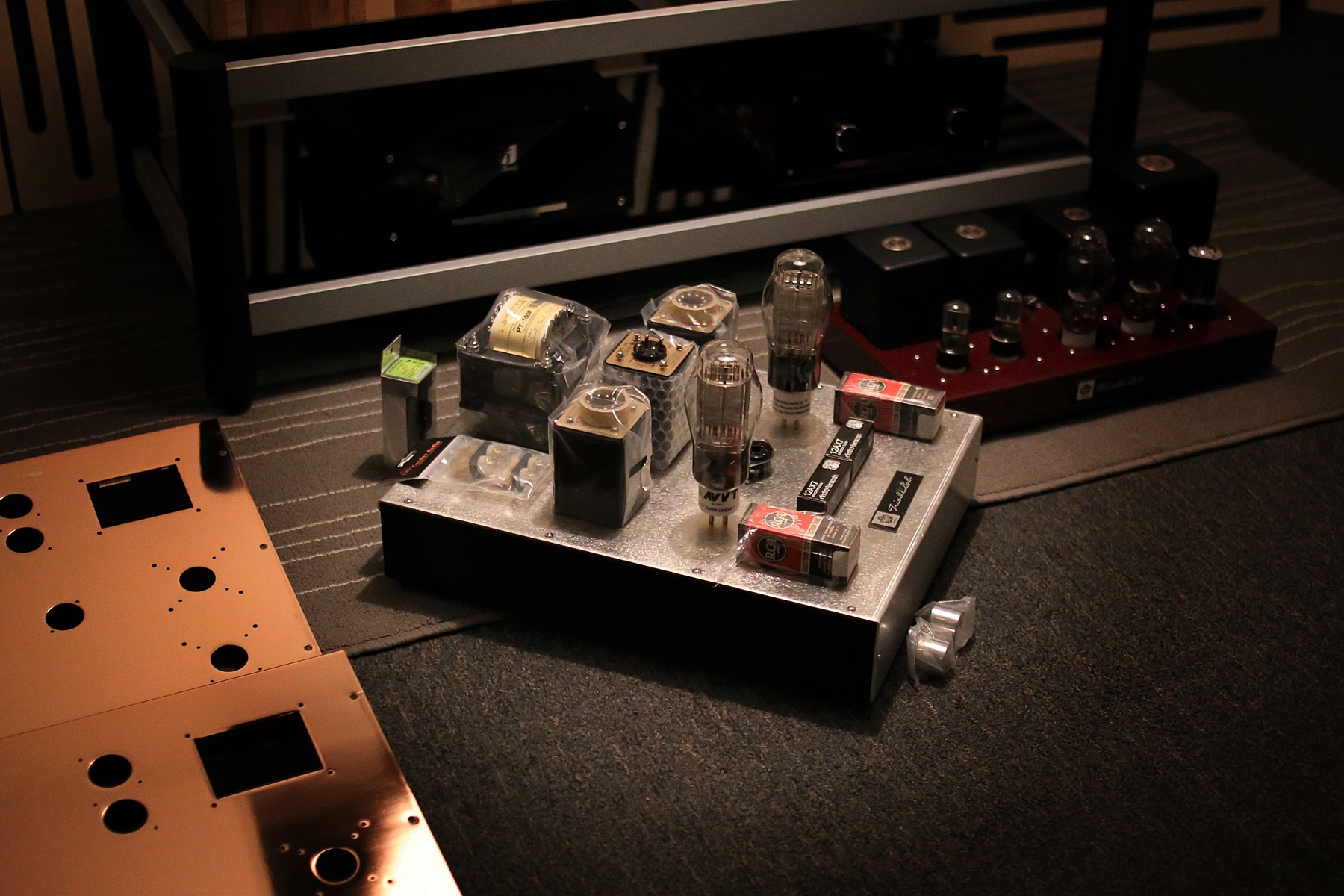 "Moving on to the 2A3i, the design philosophy is typical Triode Lab. It had to be ultra quiet, dynamic and offer tight bass as three characteristics one rarely associates with single-ended triodes of low power. Over the years and after dozens of different SET amps either owned or assessed in various systems, I can point at the Audio Note Ongaku and Tron Telstar which hit all those marks. A few more came close, including Samuel Furon's own 300B integrated and the Art Audio Carissa SE but both fell short to various degrees on bass control. Without making the unrealistic claim that the Triode Labs 2A3i is the equal of an Ongaku or Telstar, I will say that within its very strict power limitations, this integrated gave me the same goose bumps as when I heard the mighty Ongaku for the first time. It thus joins a very rarefied personal peer group comprising a few select amplifiers by Gryphon, Vitus, Kondo and Tron. "
6moons.com
And if you want more power around with 2A3 tubes, we also have the 8 Watts 2A3 PSDM (Parallel Stereo Dual Mono) version for our 2A3 connoisseurs. And 4 Watts for the 45 PSDM.
3. 2A3 / 45 Parallel Stereo Dual Mono
Reference Integrated Amplifier
DUO Feedback Technology , exclusive and debut on this 2A3 Parallel SE Design. Double the bandwidth, higher efficiency and stability, lower distortion and noise, and beautiful curves of both measurements and image of the body. (Unique feature / design on the PSDM amps only)

Dual mono design, each channel's own output, power transformers and tube rectified power supply stage on to the same chassis - Total 5 pcs + Transformers.

Feature using Mundorf power supply capacitors - Our design uses one big capacitor over multi-piece of E caps for better S/N ratio and fewer chances of interference. What's more, a long duration of R&D of the layout and location on each (out of 5 pcs + of transformers) is carefully measured and tested, to ensure each spot where the transformer is mounted is the quietest place to be. Even the horizontal/vertical placement of each transformer make a difference, if you notice how we handle the transformers on the chassis.

Mundorf Supreme Silver in Oil Caps are voiced and used across the range (FFX or Canadian trim)

Tubes same as 45/2A3i SET Integrated Except the PSDM has one more pair 45 / 2A3

Class A 8 Watts (Conservatively under-rated), on our prototype, with One Electron USA Output Transformers, we were measured max power of 9.5Ws. The final outputs will depend on the make of transformers. Starting 2018, full suit of Canadian transformers or HASHIMOTO (Sansui) will be used. Class A 4 Watts for the 45 Triodes.
45 / 2A3 - PSDM
MSRP $5,999 CAD POWER AMP
MSRP $7,500 CAD Integrated (Full preamp stage with DACT selector switch / Alps Japan Blue Vol Pot / Triode Lab Stainless-Steel Knobs)
(USA-CAN Made Transformers/ Finale Pink-Lingu RCA Input (Rose-Gold Finish) 2018+ / Binding Post 4 & 8 ohms / Furutech Gold AC Inlet/ Mundorf Silver in Oil Caps), Shipping (with tracking) and safe shipping vault ($350) will be on the house (FREE) , but no tubes. Integrated version $6,500 CAD. Limited. Made-to-order only. Lead time required. Finished into any of our 9 official colours free of charge. There are also 6,500 Other Colours here for extra : $500 CAD / Car Paints $800 (Lead time required). Or for best result (to some people), the top plate can be fabricated with pure copper for a extra $1,500 CAD. / Free options : Low Gain MOD (When normal gain is too much for 99 db + speakers - the 12AX7 will be replaced with 12AU7) and separated filament transformers
45 / 2A3 - PSDM FFX :
MSRP $12,999 USD 2A3 Power Amp / $13,999 USD 2A3 Integrated
MSRP $10,999 USD 45 Power Amp / $11,999 USD 45 Integrated
Complete suit of Hashimoto (Sansui) Transformers. Limited. Made-to-order only. Lead time required. 2A3 spec uses RSR Output 30W Flagship Output.
NEW FLAGSHIP 30W OUTPUT TRANSFORMERS DESIGN BETWEEN TRIODE LAB X HASHIMOTO - Newly developed for Parallel 2A3/300B

HASHIMOTO (Sansui) 20W Classic SE OUTPUT TRANSFORMERS - on 45-PDSM FFX , Same pair used on the 45M-II FFX

MUNDORF GERMANY Silver in Oil CAPS

MUNDORF GERMANY ECAPS

FURUTECH JAPAN Gold or RHODIUM AC INLET (optional)

QQQ JAPAN Premium Rectifier Tube Sockets

CARDAS RHODIUM or GOLD BINDING POSTS (optional)
FINISHED INTO ANY OF OUR 9 OFFICIAL COLOURS . There are also 6,500 Other Colours here for extra : $500 CAD / Car Paints $800 (Lead time required). Or for best result (to some people), the top plate can be fabricated with pure copper for a extra $1,500 CAD. / Free option : Low Gain MOD (When normal gain is too much for 99 db + speakers - the 12AX7 will be replaced with 12AU7) and separated filament transformers
REVIEW:
| Having the first Triode Lab 2A3-PSE stereo amp was an honour, and using it was a joy. The amp consistently made me smile; it made me want to rifle through my records to find more music to play. I enjoyed every aspect of this amp, and I'd consider it a worthy addition to most any high-end domestic audio system. I was sad to see it leave – I don't know when another component of this caliber might grace my room. Very highly recommended.|
http://www.WALLOFSOUND.ca