2A3 EVO
Reference Integrated Amplifier (2020+)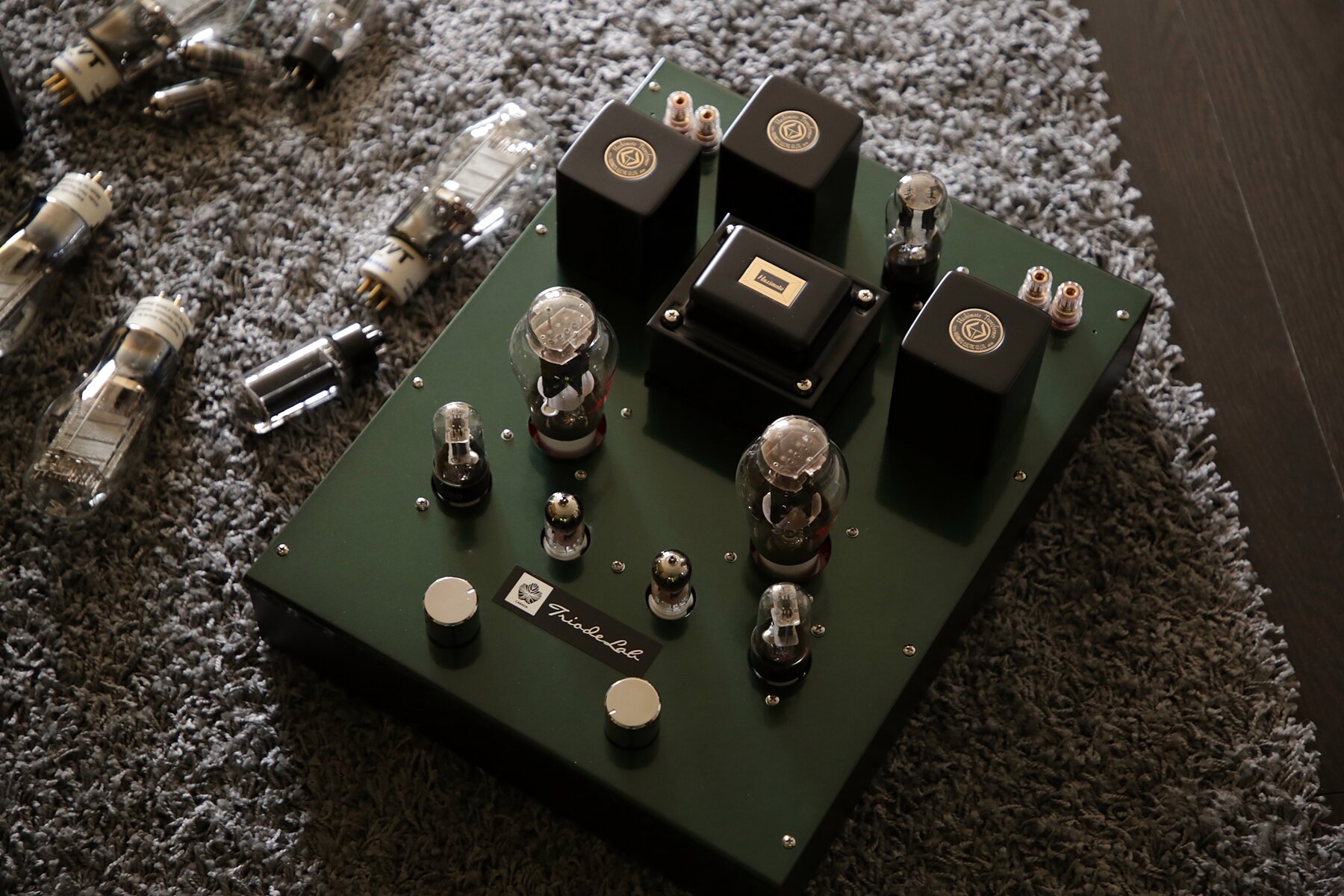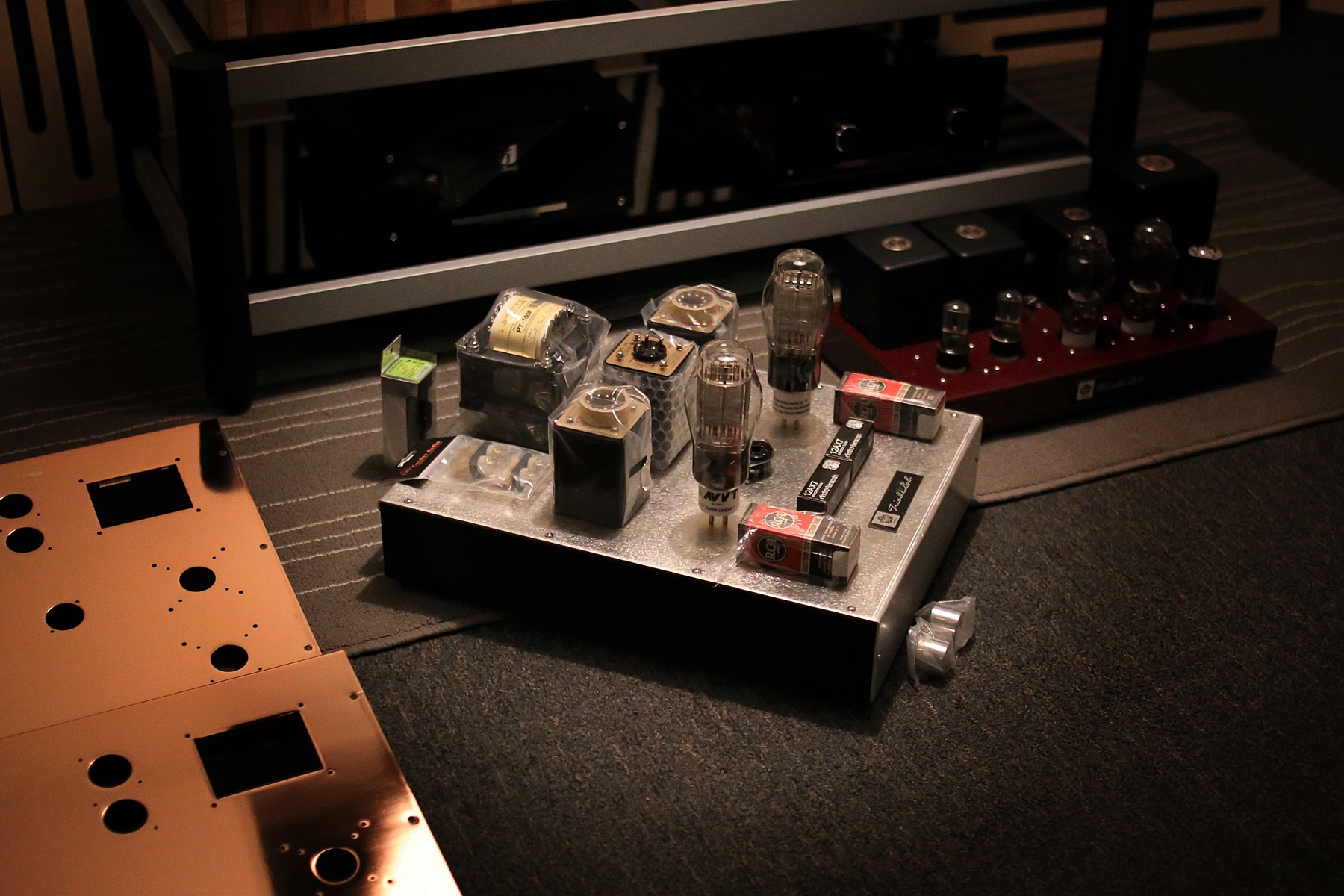 The new 2A3 Integrate : The 2A3 EVO
After ten years of revolution on the original 2A3-i , we have settled with the finest HIFI transformers - HASHIMOTO of Japan. And after ten years of on going R&D on the same design, we can safely call this the end game for the integrated amp design, and what we will be selling for the next 10 or 20 years. As there is no substitute that meet or exceed our expectation other than the ones we are using, the rest of the parts too, are hand picked and proven to be good and reliable (most passive parts we used, are brand names that we have been using for the last few decades). While we only have one trim from now on based with HASHIMOTO tube transformers (former Sansui), we can sharpen / optimal everything to its finest state. Thru rearranging and channeling of its route (in and outs) and grouping all the high tension / high voltage parts together for the best separation and minimize the crosstalk. Each transformer, each part, each bit, are well thought and considered before we put on to each designated location. For example, the power transformer is right behind the 2A3s for a reason - it provide the shortest voltage supply path to the 2A3s : if it is longer, the weak 2.5V that feeds them might drop even lower, resulting lowered output power. And look at the output transformers - the binding posts is put right behind it again, aiming for the shortest path for superior bass response. Every little inch under the chassis are all well used and executed. They all have a reason to be there. And we are very happy with this brand new evolved integrated circuit for perfection - it was already the best, now is even better / quieter.

SPECIFICATIONS:
Class A Autobias 4 Watts (Conservative rated) for 2A3 EVO / 2 Watts for 45 EVO

Output Transformers : HASHIMOTO Japan (Sansui)

Choke Transformer : HASHIMOTO Japan (Sansui)

Power Transformer : HASHIMOTO Japan (Sansui)

Connectors : CMC USA Gold RCA / Binding Posts

Coupling Caps : Mundorf Silver in Oil Coupling Caps

Volume Control : Alps Japan Blue

Selector Switch : Lorlin UK

Rectifier Tube Socket : QQQ Japan

AC Inlet : Furutech Japan Gold IEC

Dimension: 13.5" Wide x 18" Deep *** New 2020 Chassis that we also build our 211 amp on ***

Tubes : 12AX7 Pair / 6SN7 Pair / 2A3 Pair / Mullard GZ32 Rectifier Tube is what we voiced this amp, any other NOS 5V4/GZ32 are recommended for use as rectifier tube, ask us for more options.

New chassis became top plate over chassis design - and the top plate can be painted into any of our 9 official colours free of charge. There are also 6,500 Other Colours here for extra : $500 CAD / Car Paints $800 (Longer lead time required, as often the top clear-coat is not harden). Or for best result (to some people), the top plate can be fabricated with pure copper for a extra $1,500 CAD.

$7,500 USD + Any options. (Dealers might sell for more due to expensive global shipping and high quality safe shipping vault)

Every amp is made to order (It is complete hand made here in house at Triode Lab, from drilling every hole to mount every part) and like any thing that is the best - BE PATIENT!
PICTURES
This 2A3 EVO is finished in one of our 9 Factory Colours - the British Racing Green Metallic. All photos are using natural light-source (no interior lighting or camera flash is used) and taken at a different time of the day. This is to show how much shades of green this brilliant colour changes thru out the day and time.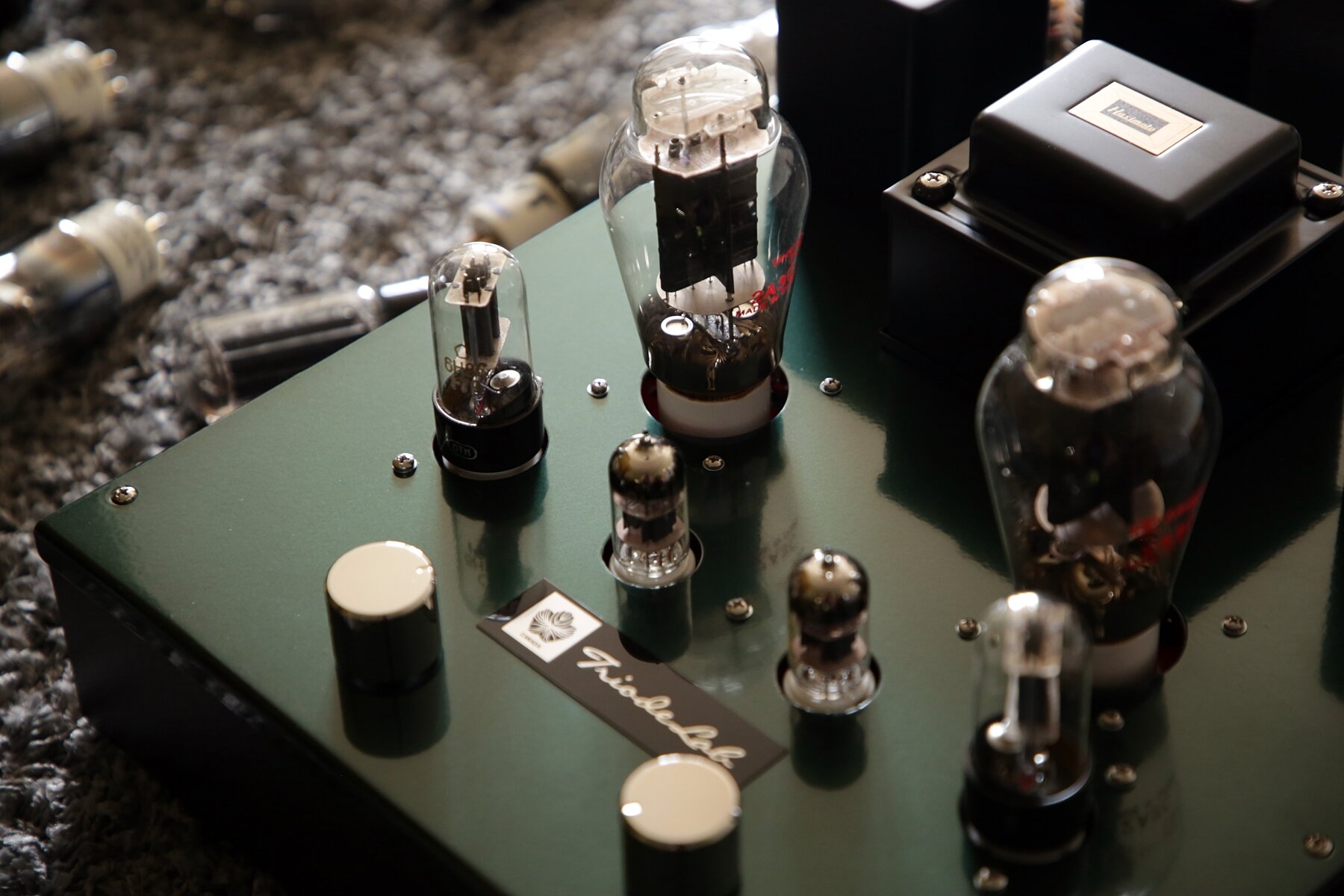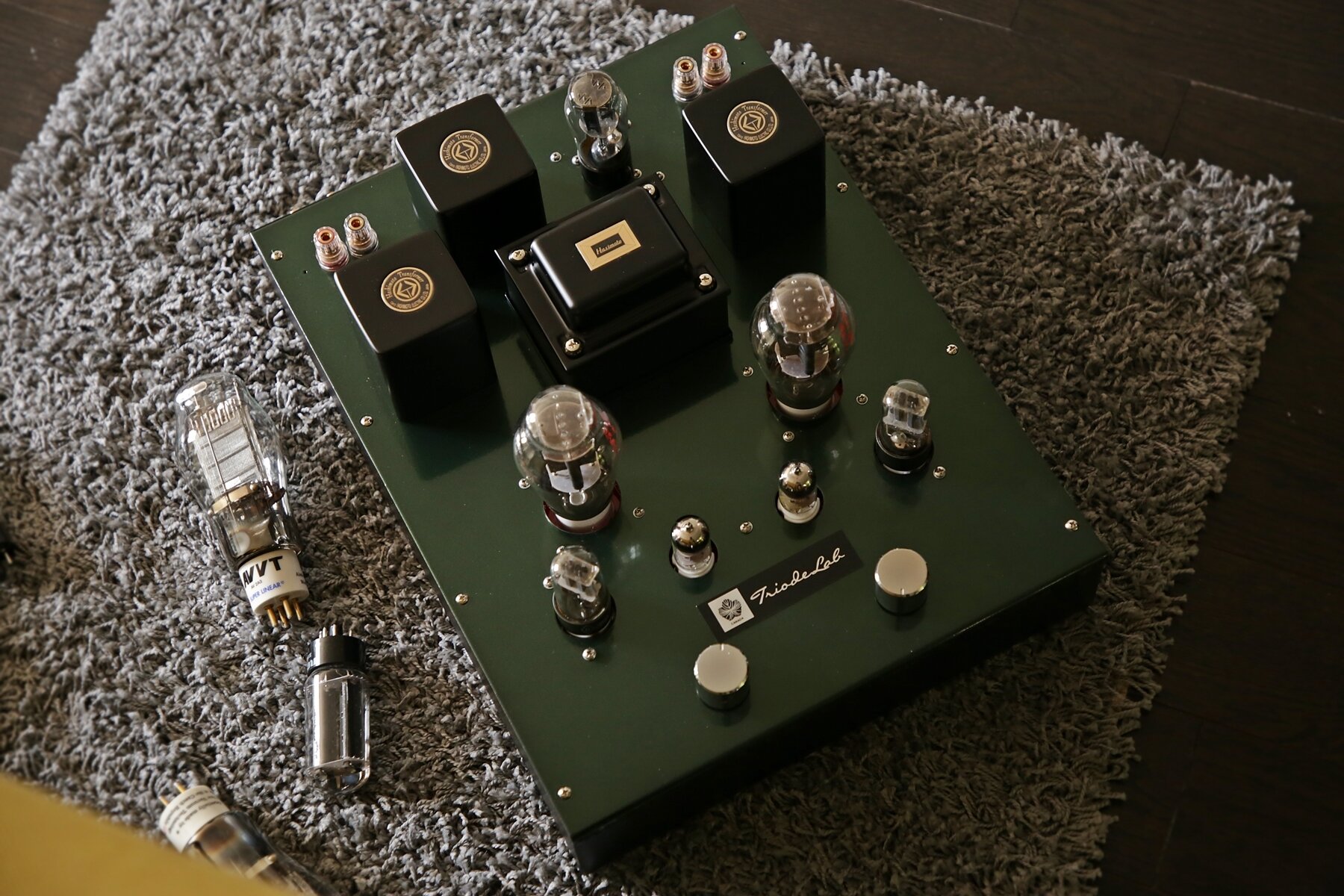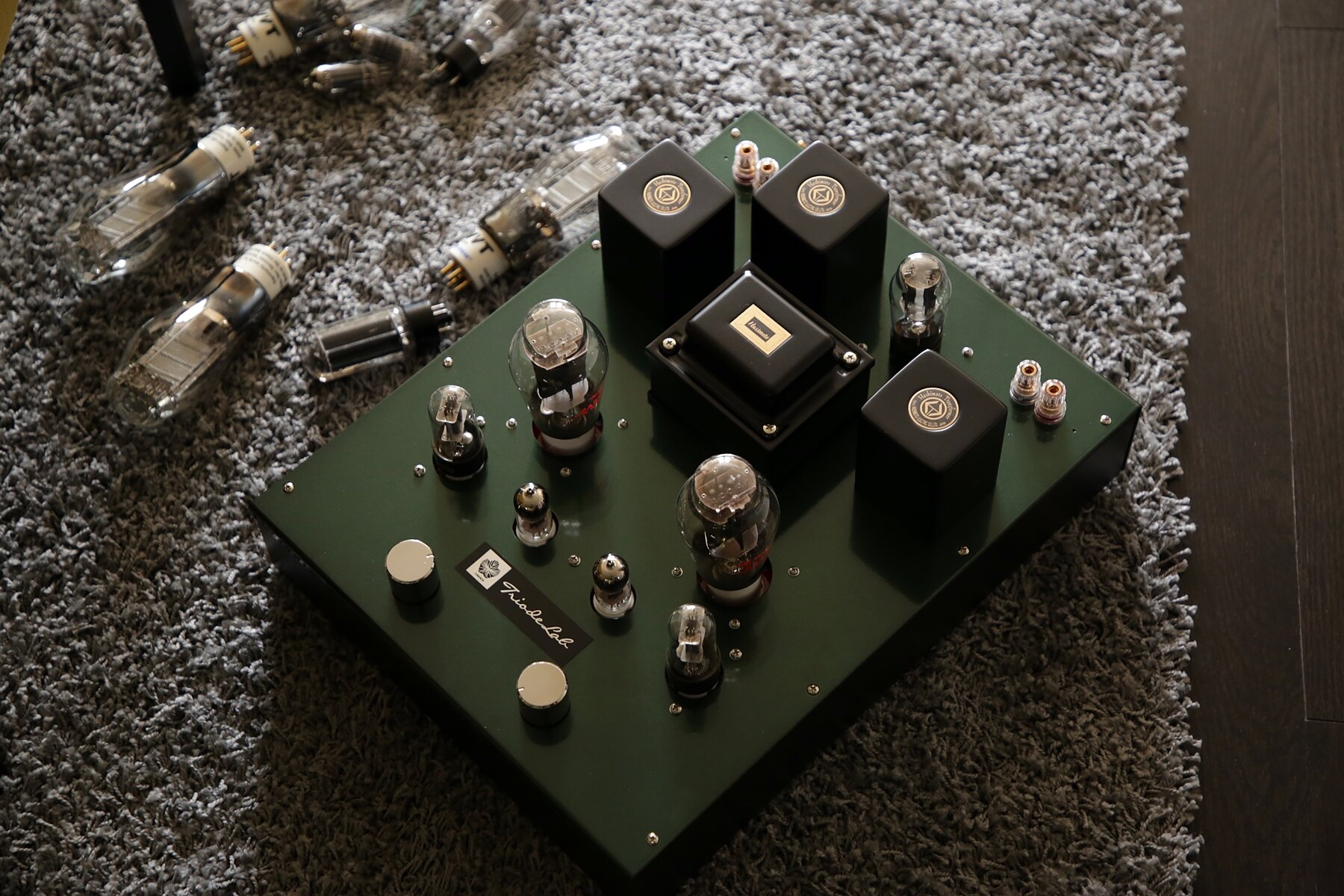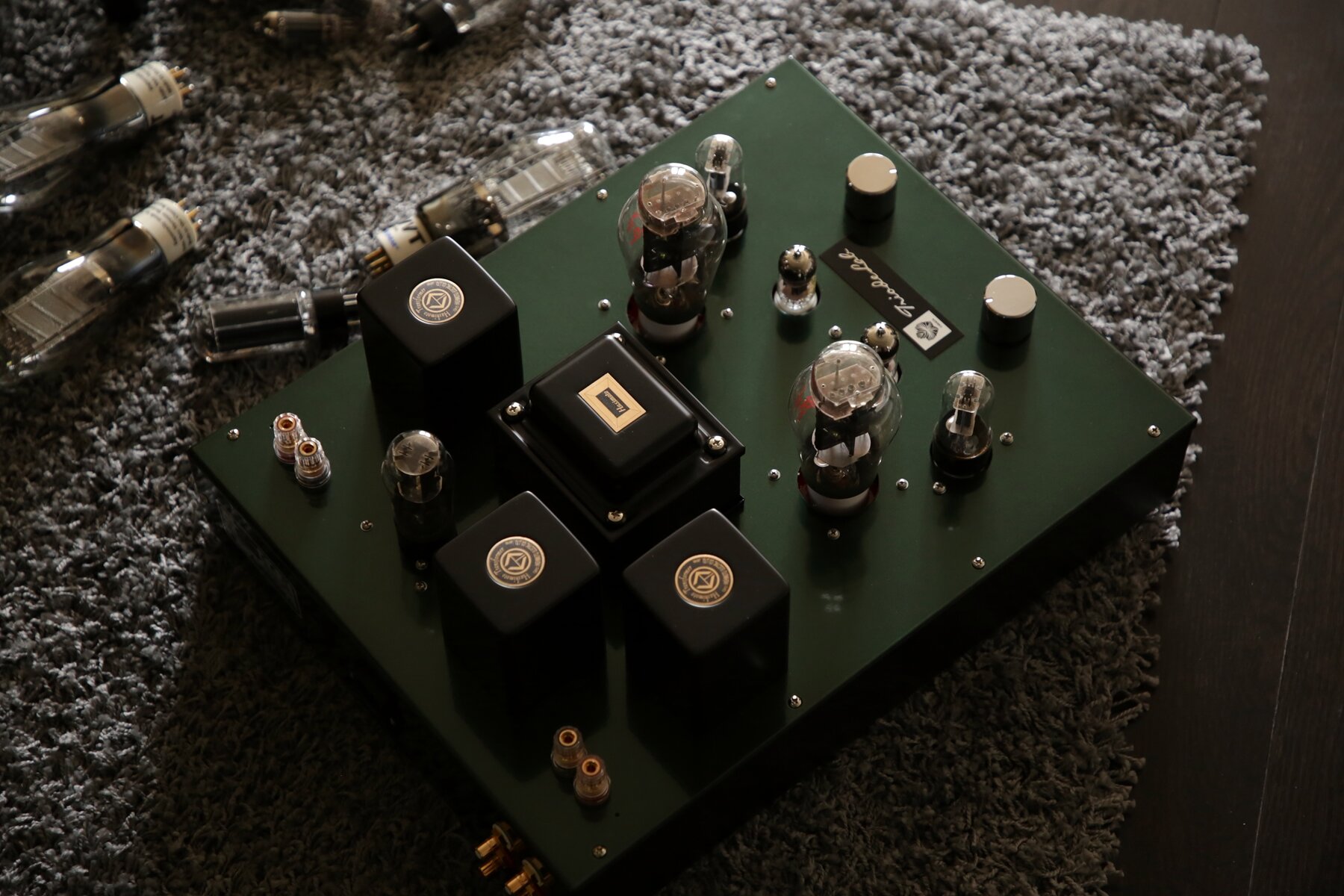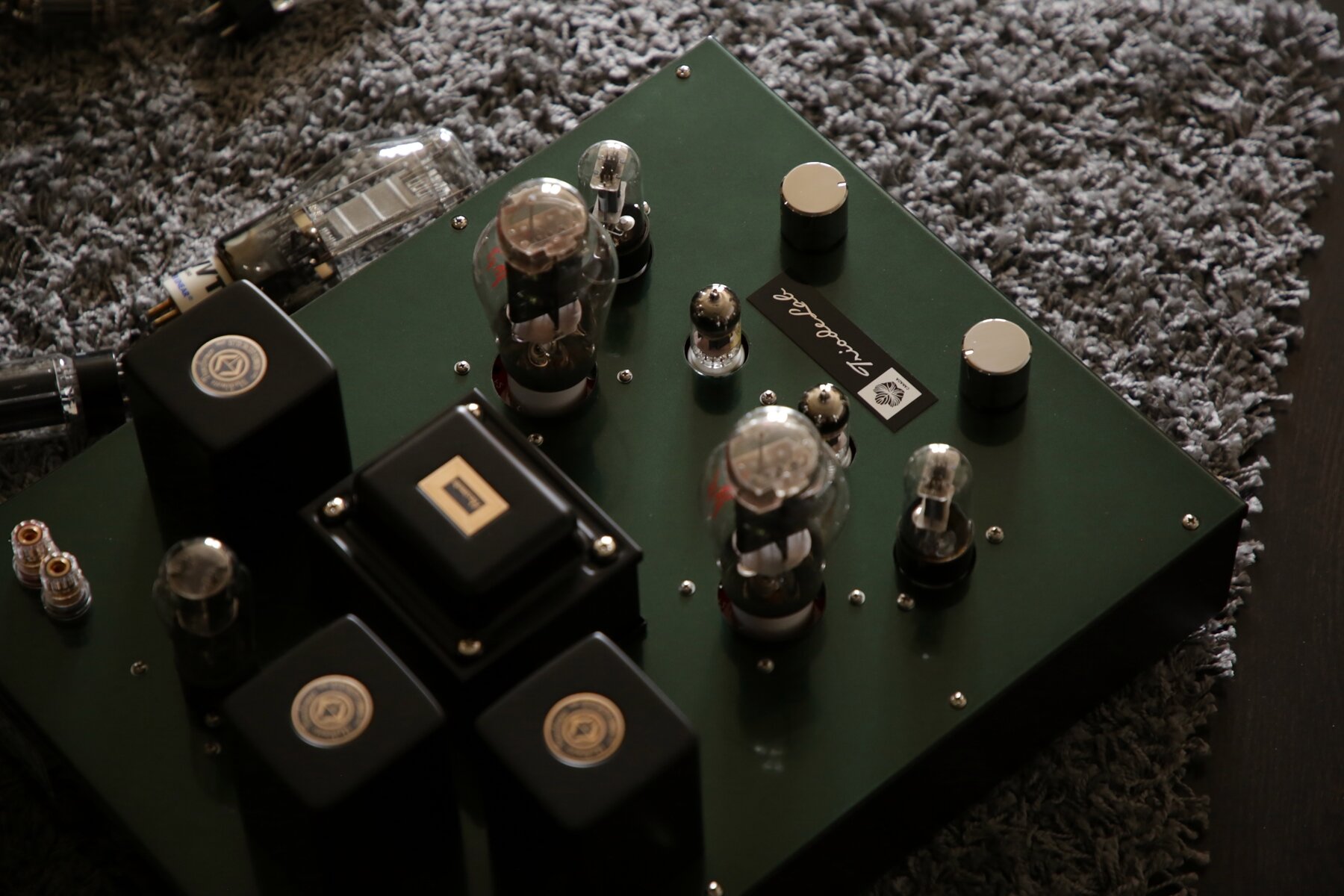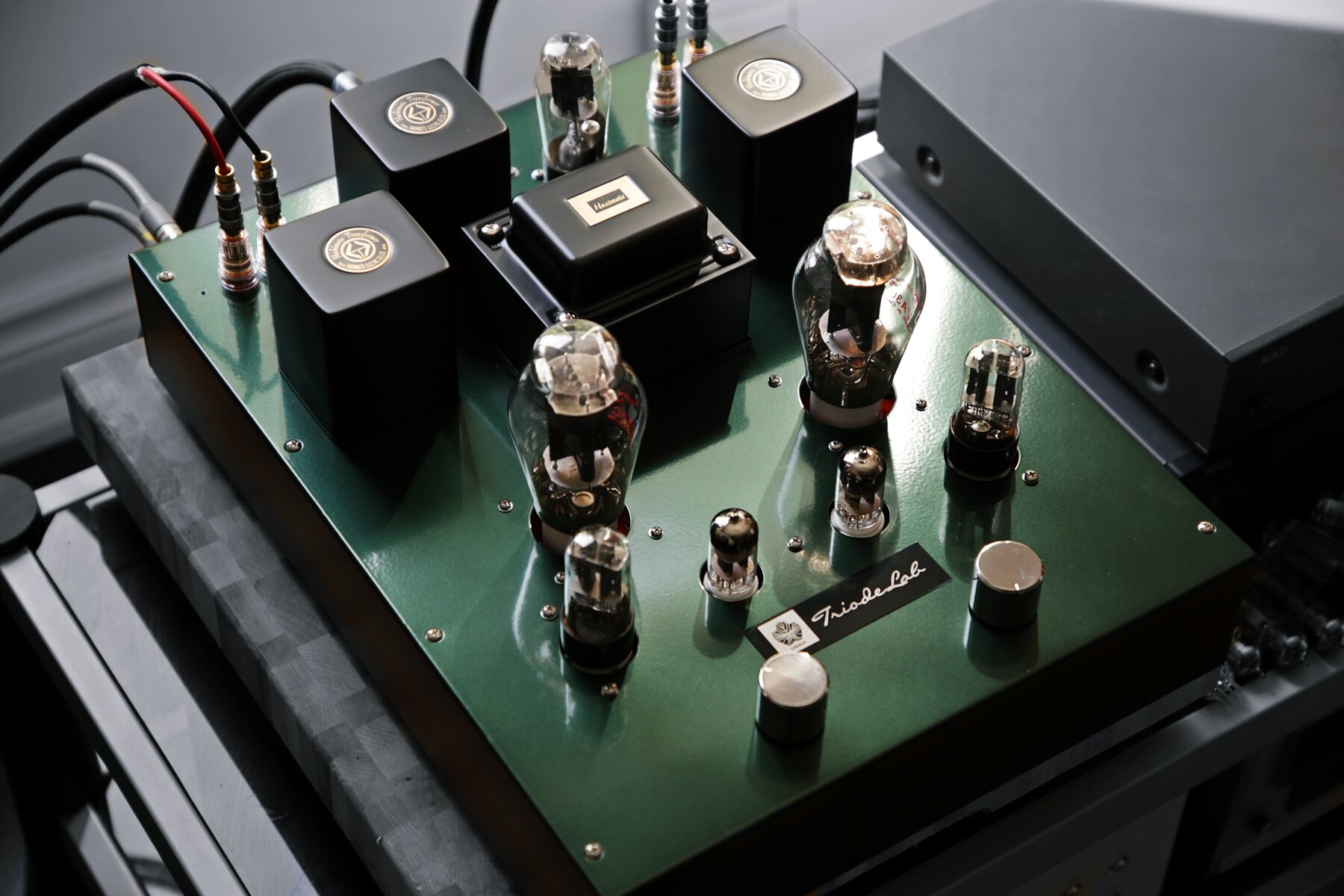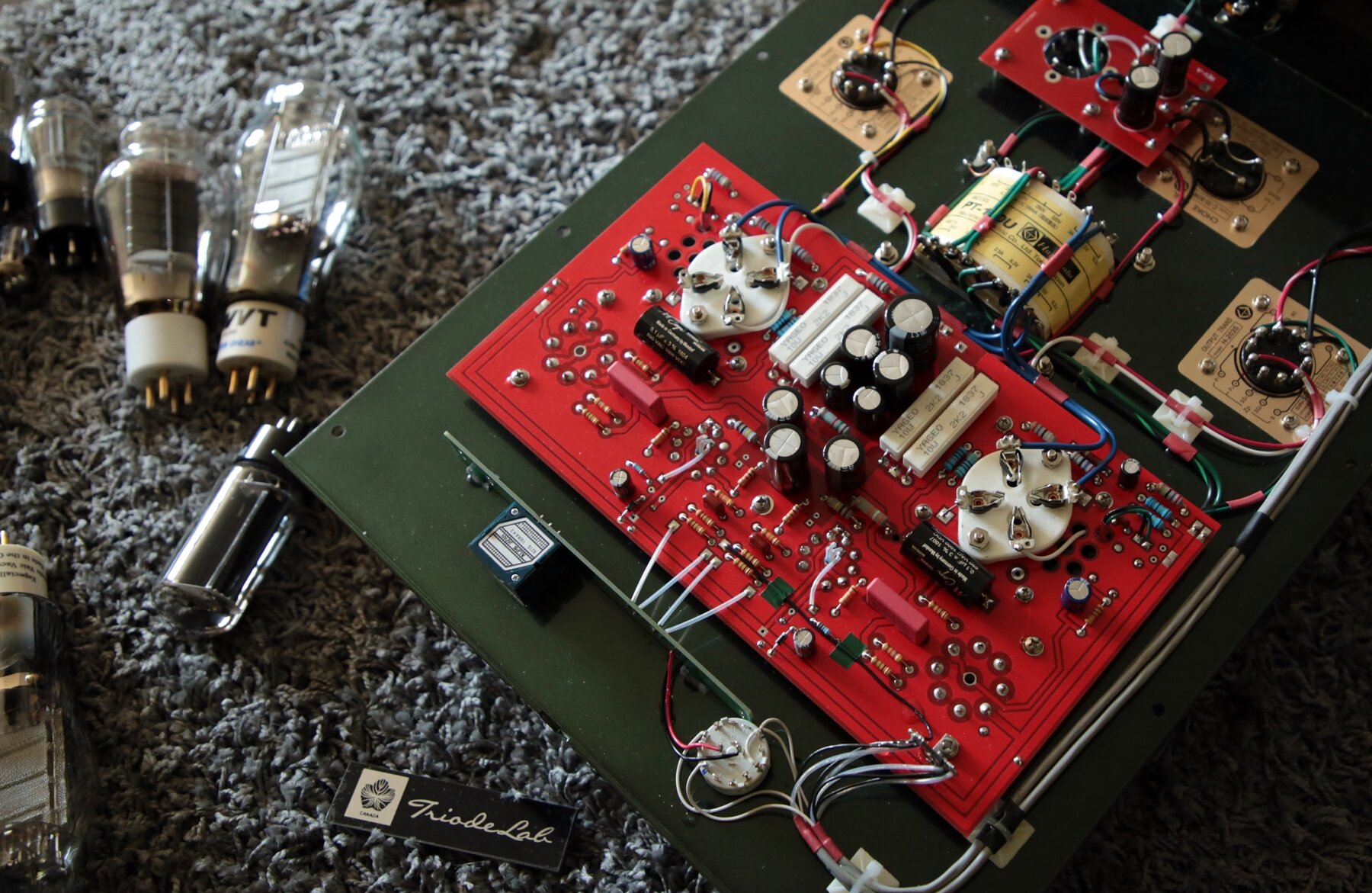 DISCONTINUED :
2A3-i
Reference Integrated Amplifier (2009-2019) MK1
"Going up in price, the Triode Labs 2A3i sounded superb, with resolution and richness fully returned to the upper mid-range compared to the solid-state amplifiers. It gave back texture to violins and allowed me to hear strings and sympathetic body resonances very clearly."
Frederic Beudot @ 6moons.com
Tube use / Dimension/ Weight and Power:
12AX7 Pair / 6SN7 Pair / 2A3 Pair / 5U4 or 5V4 ONLY Rectifier for 2A3i Canadian, and FFX is voiced with Mullard GZ34/32

Dimension: 12.5" Wide x 22" Deep

Weight: 30 lbs - 45 lbs, Plus Shipping Boxes and Materials (Depending transformer used)

Power : 3.5W - 5W+ : Depending on the model and output transformers - Some have better inductance, some have more power, some for more definition/clarity or better treble/bass extensions. It all depends on the design of each transformer; and each brand and model of output transformers are different - that's why they have different models for just one tube usually. As they have different timing, bandwidth, measures, phase shift, distortion, presentations, and insert loss - so on each model, we have to fine tune and maximize use of them, rather it is the output transformer, the choke, or the power transformer, they all offer different optimal working parameters, and we are the expert to extract their potential at its best to the last bit. On the other hand, the less ideal/precise designs will tell you its 3.5W because they see the transformers as just part of the calculation (rather they will meet their original design goals on paper or not at the end). This is what makes us better than the best out there.
REVIEW: "Moving on to the 2A3i, the design philosophy is typical Triode Lab. It had to be ultra quiet, dynamic and offer tight bass as three characteristics one rarely associates with single-ended triodes of low power. Over the years and after dozens of different SET amps either owned or assessed in various systems, I can point at the Audio Note Ongaku and Tron Telstar which hit all those marks. A few more came close, including Samuel Furon's own 300B integrated and the Art Audio Carissa SE but both fell short to various degrees on bass control. Without making the unrealistic claim that the Triode Labs 2A3i is the equal of an Ongaku or Telstar, I will say that within its very strict power limitations, this integrated gave me the same goose bumps as when I heard the mighty Ongaku for the first time. It thus joins a very rarefied personal peer group comprising a few select amplifiers by Gryphon, Vitus, Kondo and Tron. "
6moons.com