45M
Single Ended Triode Mono Amplifiers
2W Class A Single Ended Triode Mono-Blocks

Auto-Bias

1V Input Sensitivity (Optional low gain 1.5V - 2V Input Sensitivity, recommended for 99 db + speakers)

Complete Canadian Transformers

Triode Lab P-10 Output Transformers (Specific designed and engineered for low watts refinement around 2A3/45/300B/6V6 Tubes)

Hammond Canada Choke Transformer

Triode Lab Mono Power Transformer, proprietary designed for 2A3/45 Single Ended Triode application (CSA/UL Compliance)

80 db Signal to noise ratio / A Weighted (Conservatively rated)

Mundorf Evo Oil Coupling Caps

CMC USA Gold RCA Inputs (Finale's Pink-Lingu RCA for Walnut Edition)

High Quality Binding Posts 8 / 16 Ohms

12AX7 / 45 / 5U4 Only (5V4/5Z4 substitute)

2017 New Option - Upgraded the ceramic 2A3 tube socket to CMC Teflon Type - so you will never insert wrong pins!

Top Plate Colours/Finish : Ask for more details!

$4,500 USD / Pair + Upgrades
Canadian Walnut Edition Is Also Available for $3,500 CAD / Pair (Pictured below)
Rated Output Power @ 8 ohms : 2W @ 1%

Operation : Class A Autobias

Input Sensitivity and Impedance: 1V at 220k +/-10%

Frequency Response: 20-20,000Hz +/-1db at 1 Watt

Hum & Noise (A-Weight): 80 db or better at rated output (Conservatively rated)
This is the only design that will safely put the 45 tube in its best working operation point, because this is designed and engineered with the 45 tube, instead of the more powerful 2A3 tube. One set of variables/design will NOT be able to maximize the full potential of two different tubes! And this is where the 45 Mono Blocks come in, and they are very popular on 100db+ applications.
45M-II ffx
Parellel Single Ended Mono Blocks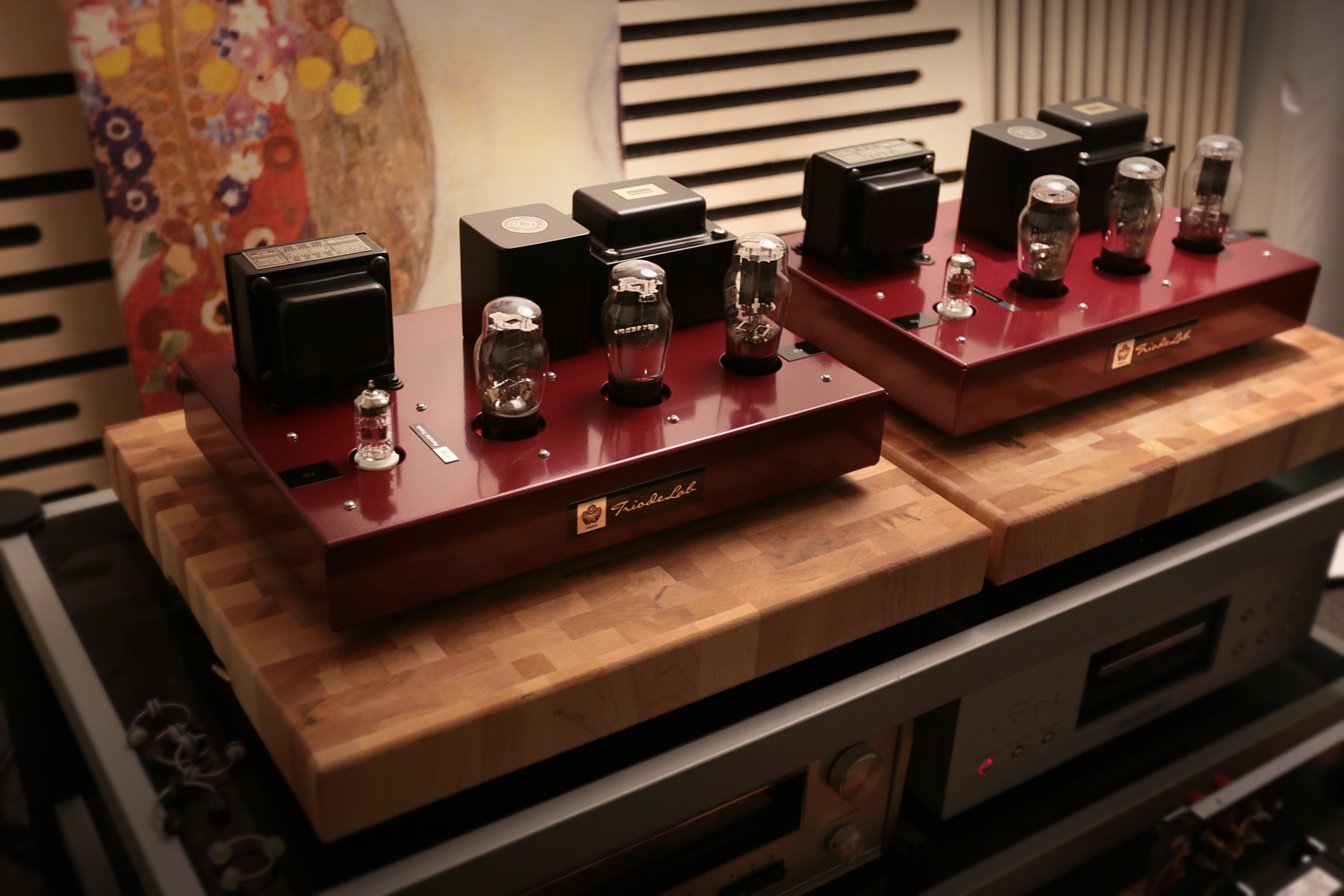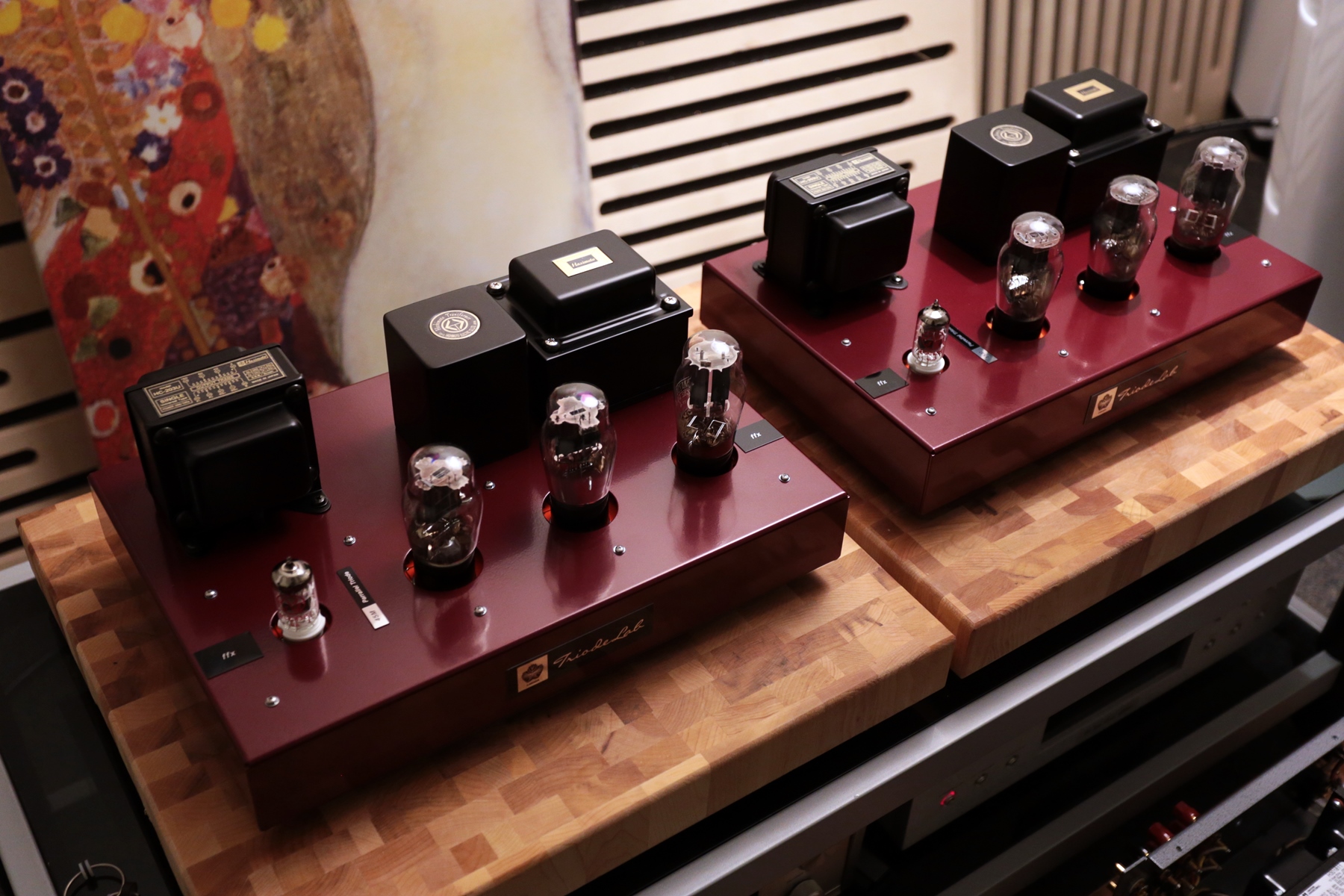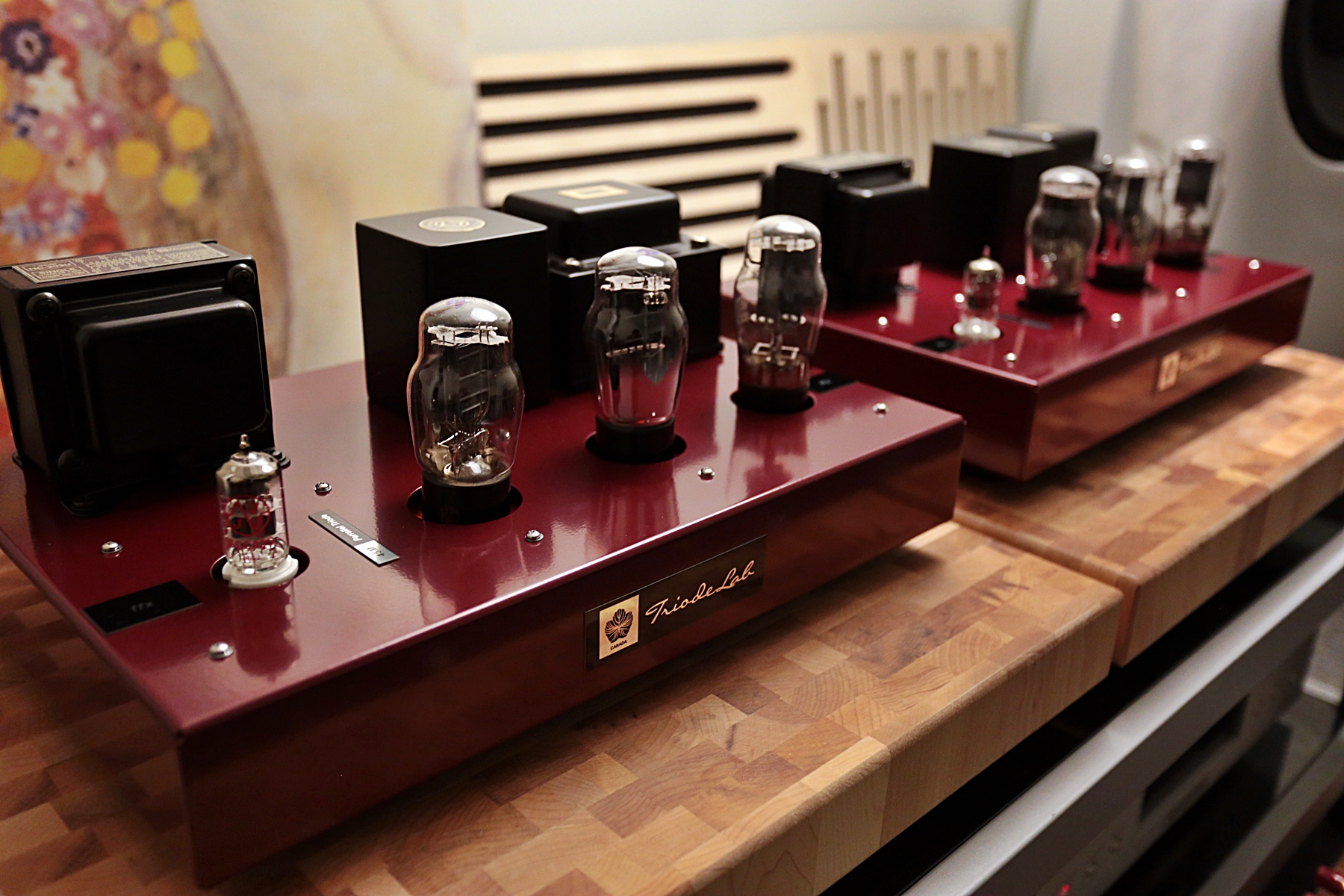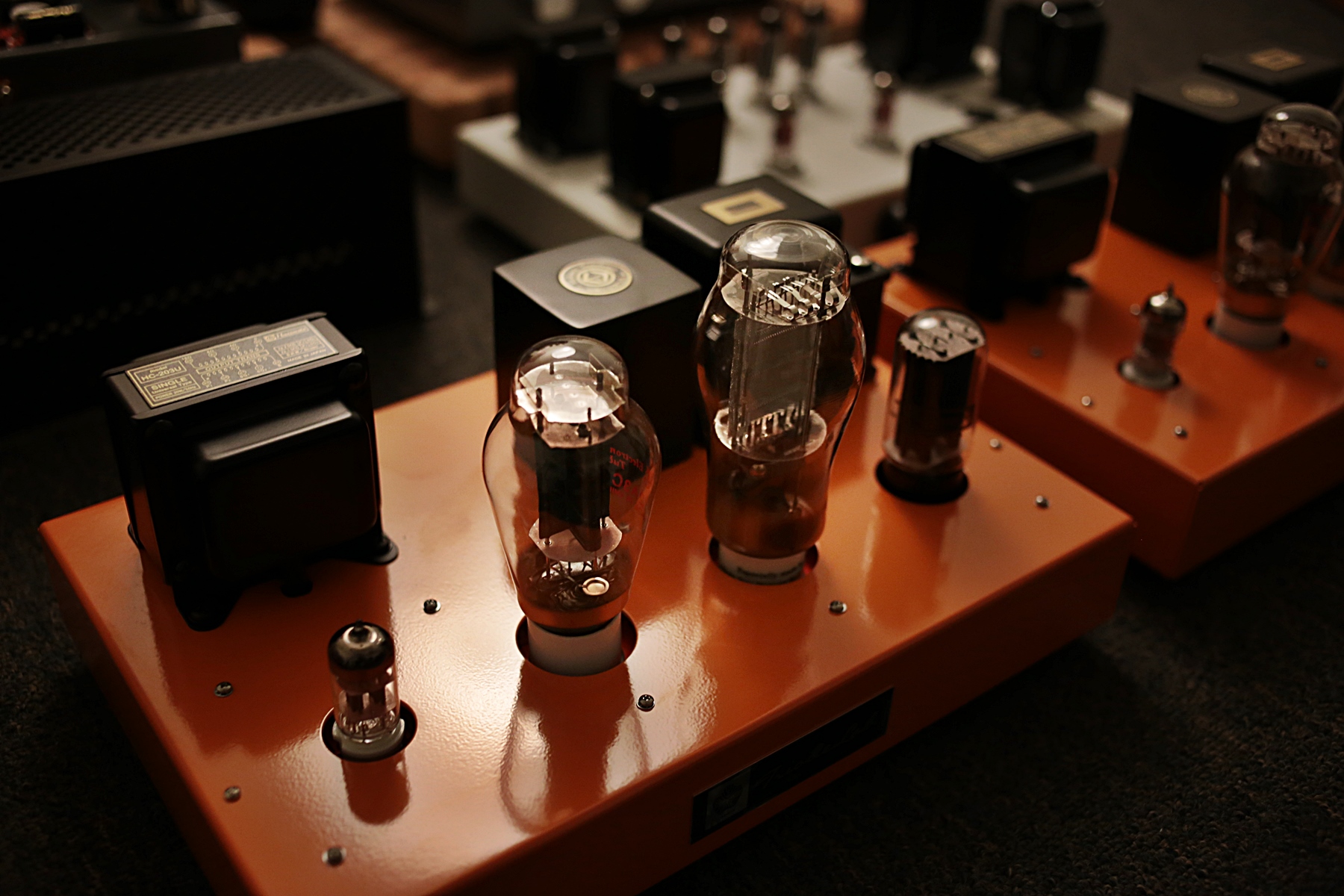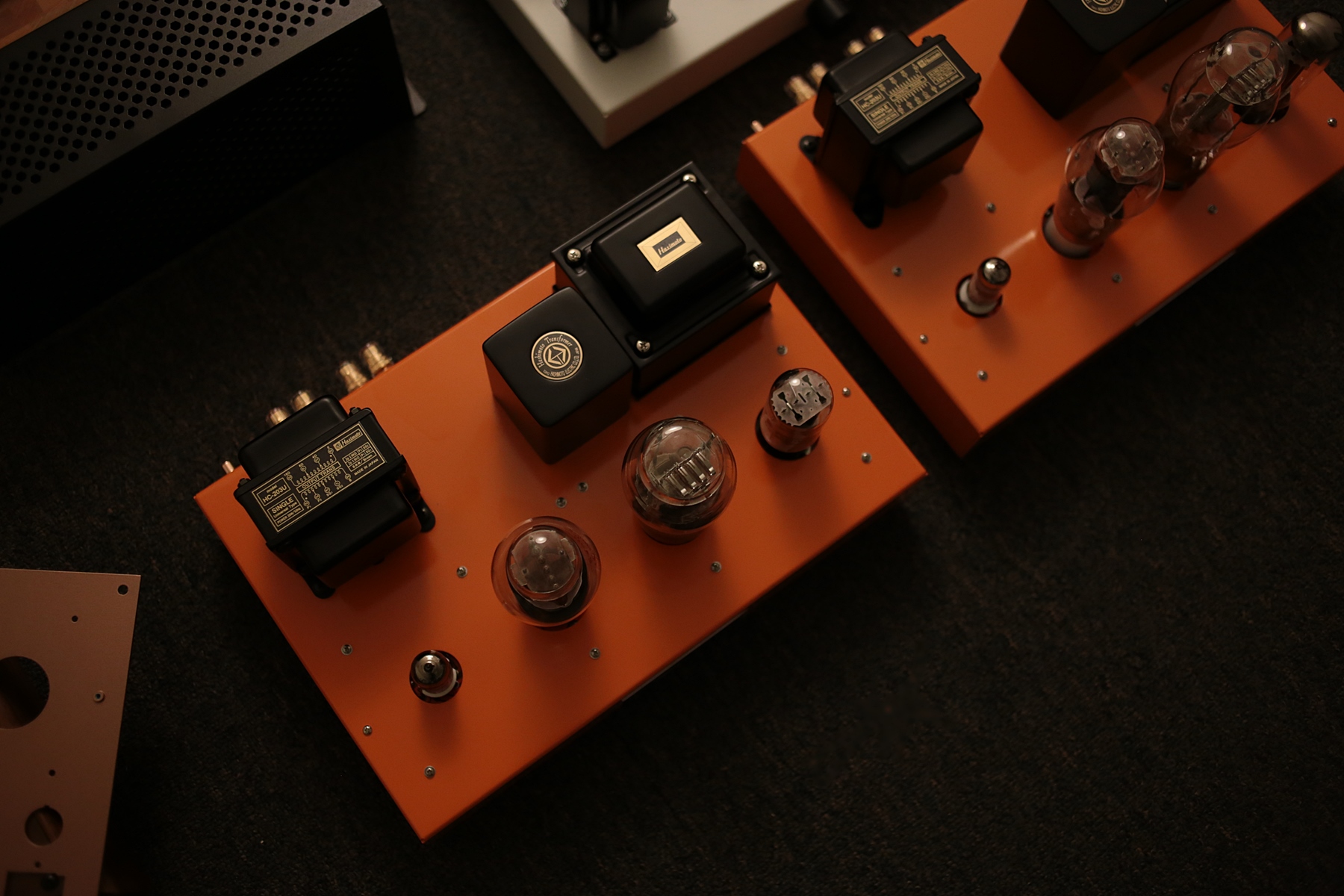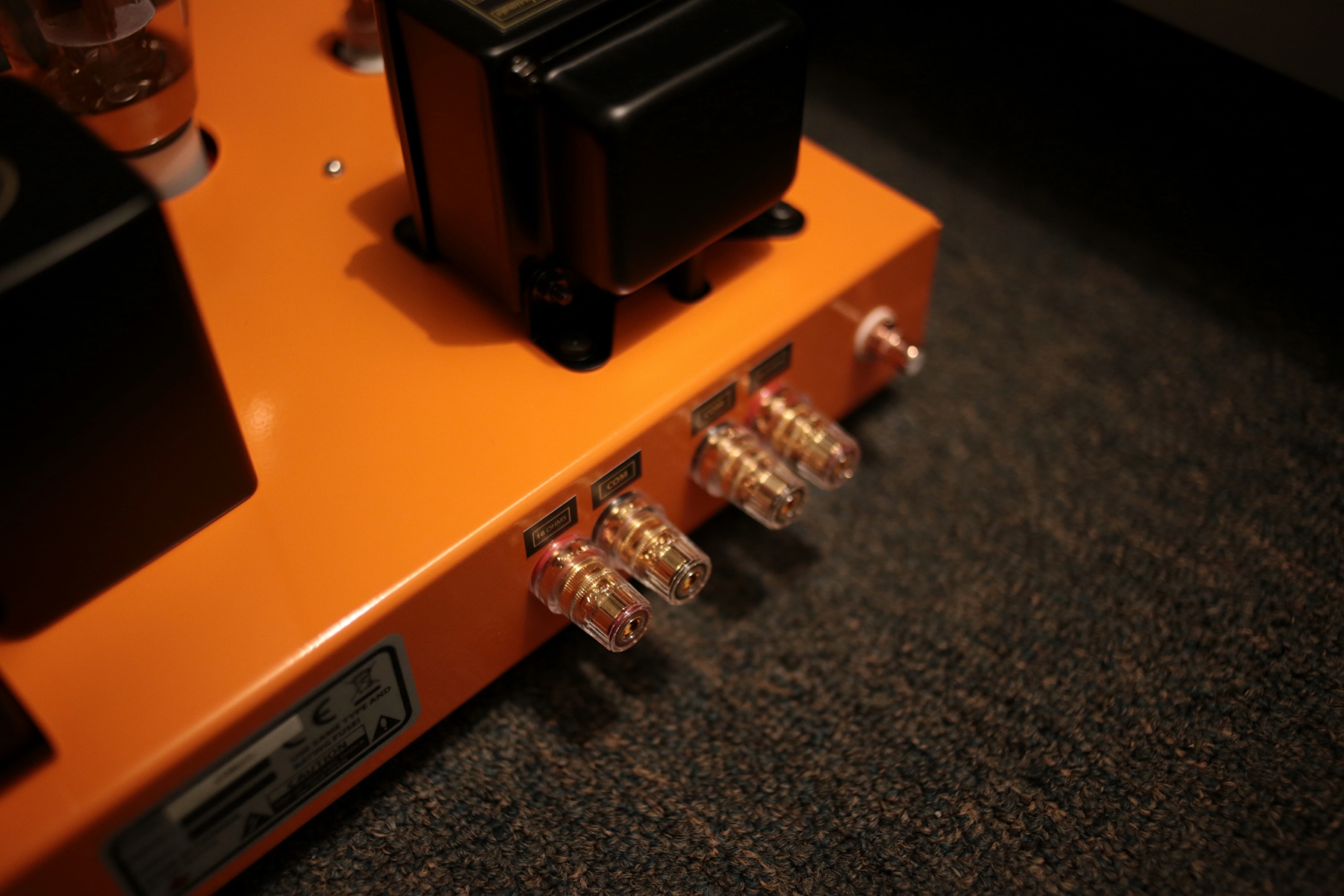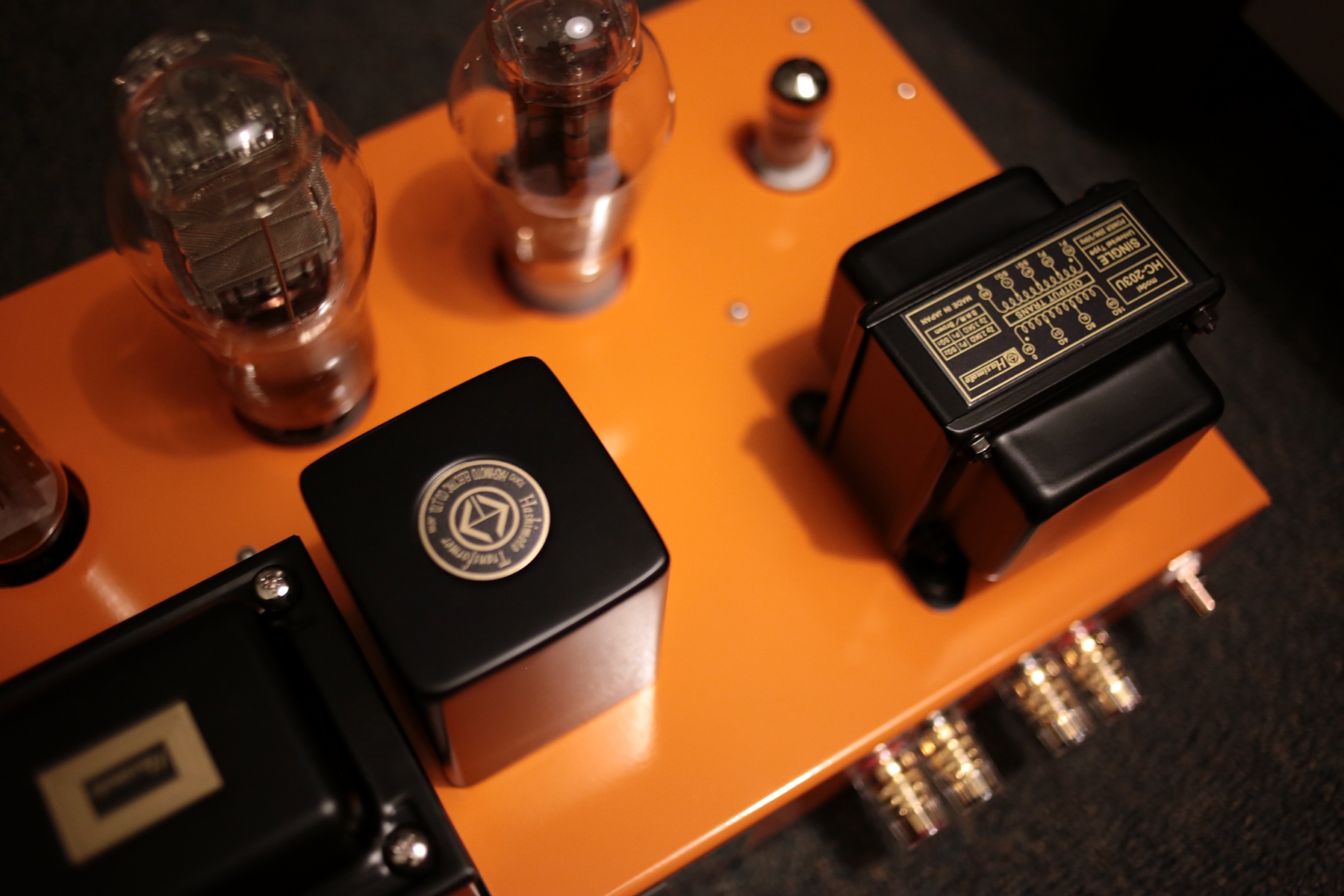 45RS
Single Ended Triode Stereo Amplifier
Limited edition.
Your choice of 12AX7 or 6H30 as drivers

Power output : 45 - 2W before distortion

The 12AX7 version is handmade in our usual top notch 3D classic hard-wiring ; 6H30 version required a more complicated design and required to perform best on a circuit board that is entirely grounded/shielded for the best result. We've mastered this tube over a long period of time and even though this tube required more attention and work, we just like the sound of it. Either driver-stage uses finest resistors and e-caps, and via industry best QQQ-Japan's tube socket

Your choice of: Hammonds or Hashimoto Transformers Set

Dual Choke Transformers (One supply the operation and one supply the tubes) following its dedicated high quality dual Mundorf MLytic Ecaps

Chassis size : 18" W x 12" D x 2" H

Pure Copper Chassis ($1,000 Extra) , finished in a semi-gloss lacquer for a rich and elegant presentation. The high quality copper material is much heavier than its aluminum counterpart, as well, a good conductive material for electric (there are reasons why your experienced audiophiler say its a sweet thing!), and expensive to source and fabricate (very hard material). It requires a week of dip, clean and polish right here in Toronto, before it can be sent off to our clear-coat facility with lint-free glovehandling at all time. The time, labour, and going to four different shops easily increase the value of these copper chassis north of $2K. They weigh close to 30 lbs without any transformers.

Rectified and voiced by Mullard GZ32/ EML 274B (5U4/5V4 can be substitute, 5AR4/GZ34 not recommended on NOS/Old 2A3 and 45)

Premium Parts - Finale's Pink-Gold RCA / Cardas Binding Posts, Mundorf Silver in Oil Caps, Furutech Rhodium AC IEC, QQQ Japan's tube sockets...etc.
MSRP: $8,999 USD (Hashimoto or James) / $9,999 CAD (Triode Lab / Canadian Transformers, spec)
Limited. Made-to-order only. Lead time required.

Pricing INCLUDING 3" Foam Vault/Triple Layer Carton Box/Optional Wood-crate Shipping Arrangement. 60 lbs +

No tubes included!
45RS-R
Single Ended Triode Mono Amplifiers
Parallel 45 Tubes per Channel - 4W minimum

Full suit of Hashimoto transformers (Starting 2017)

Dual Hashimoto Choke transformers - One supply the operation and one supply the tubes), following its dedicated dual high quality Mundorf M-Lytic Ecaps

Hashimoto 45/2A3 power transformer (The best kind power transformer for the 2A3 application currently, and it makes a substantial improvements on the AC heated 45/2A3 applications, it's not just quieter, but it sounds better!)

Chassis size : 18" W x 12" D x 2" H PER BLOCK

Rectified/Voiced by Mullard GZ32/EML 274B (5AR4/5V4/5U4 ...etc all can be used)

Goodies - Cardas RCA / Binding Post 0-4-8-16 (or Furutech Carbon Fibre Binding Post 0-8 Ohms), Mundorf Silver in Oil Caps, Furutech Rhodium IEC...etc. Whichever high end parts work to your ears!

Pure Copper Chassis (Addional $1,000 USD), finished in a semi-gloss lacquer for a rich and elegant presentation. The copper material is much heavier than its aluminum counterpart as well a good conductive material for electric (there are reasons why your experienced audiophiler say its a sweet thing!), and expensive to source and fabricate. It requires a week of dip, clean and polish right here in Toronto, before it can send off to our clear-coat facility with lint free gloves handling at all time. The time, labour, and going to four different shops easily jack up the value of these copper chassis north of $2K.

MSRP - $18,000 USD Pair with full suit of Hashimoto 8 Pcs Transformers or $16,000 CAD Pair with full suit of Triode Lab - Canadian Transformers

Pricing INCLUDING 3" Foam Vault/Triple Layer Carton Box/Wood-crate Shipping Arrangement. 100 lbs+